Travel and Lodging Information
Getting to Washington, D.C.
Washington, D.C. is served by three international airports. The closest and most convenient airport to the conference is the Washington National Internation Airport (airport code DCA). This airport is located across the Potomac River separating D.C. from Virginia and is serviced by the Metro rail system.
A larger aiport with more international connections is the Dulles International Airport (aiport code IAD). This airport is located about 26 miles (42 km) from Washington, D.C. It does not have a direct Metro access, however, a frequent bus shuttle connects it to the West Falls Church Metro station. There are also various private shuttle operators offering transport. Finally, you can also fly into Baltimore (airport code BWI). This airport is located 33 miles away. Please visit Meeting Venue for information on traveling to the conference from the airports.
Conference attendees requiring invitation letters should email Ms. Tabitha Smith at tsmith25@gwmail.gwu.edu.
Lodging Options
Washington, D.C. offers many lodging options in the vicinity of the conference venue. The hotels below are located within a 15 minute walking distance from the university. The price range is $200-230 per night.
An alternative to Washington, D.C. is finding lodging in the surrounding suburbs. Areas in Virginia, such as Crystal City, Pentagon City, Arlington, and Alexandria offer good and convenient options as these areas are served by the Metro system. You may use booking websites such as Hotels.com, Expedia.com, or Orbitz.com to find hotels. Please refer to the image below for the D.C. area metro map.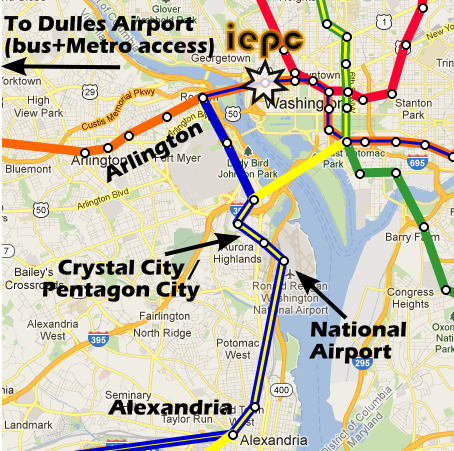 Things to Do
The Washington, D.C. area offers visitors a large variety of activities. A short walk from the university campus is the National Mall, which is home to many world-renowned (and free!) museums and art galleries. The Mall is also home of the U.S. Capitol and the Washington Monument. Please note that the monument remains closed to visitors at present due to undergoing repairs. Short drive from Washington, D.C. is home to many renown Virginia wineries, as well as the Great Falls and Shenandoah National Parks. For additional travel information, please refer to the Wikitravel guide.