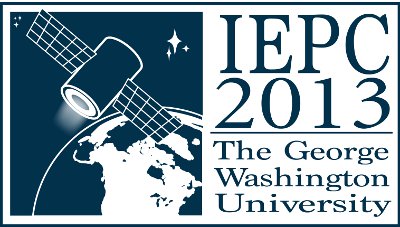 Call for Papers
Papers are invited in all areas of electric propulsion, such as:
Hall Thrusters
Ion Thrusters
Field Emission and Colloid Thrusters
MPD Thrusters
Pulsed Plasma Thrusters
Resistojets/Arcjets
Other electrothermal, electromagnetic or electrostatic thruster concepts
Innovative or advanced electric propulsion concepts
Cathode and other component and materials technologies
EP propellant feed systems
Power and power processing for EP systems
On any of the above concepts or systems the topics of interest include but are not limited to:
Physics
Fundamental studies
Analytical Modelling
Numerical simulations
Laboratory and Space Testing
Diagnostics
Lifetime Characterization
Mission Analysis
Systems Analysis
Development
Application
In-flight experience
Submission of papers regarding the use of electric propulsion in the context of novel mission designs is particularly welcome. This could apply to, for instance, microthruster applications in formation flight, or the use of electric propulsion in combination with weak stability boundary trajectories in multi-body regimes.
Papers dealing with other topics related to electric propulsion are also welcome, including program overviews and papers on the history of electric propulsion. Papers highlighting the role of new countries emerging in the space arena are particularly encouraged.
Authors wishing to present a paper on the above topics should submit a 2-page abstract (which can contain figures, photographs and references) on-line by midnight GMT May 27th, 2013.
Abstracts will be reviewed by the IEPC Technical Committee and authors will be notified on June 15th, 2013 on the outcome of the review process. The accepted papers must be uploaded by September 23rd, 2013. Selected papers from each session will be recommended for publication in a special issue on Plasma Propulsion in IEEE Transaction on Plasma Science.